One of the more intriguing statements we came across during our research of the La Ventana Mine, related in our telling of the tale of La Ventana, was gleaned from multiple sources over many years. This is, namely, that the 'cache' for the mine was located "two sleeps away" from the mine. This monograph is a further exploration of that thought. In brief, a cache is a well-concealed location at which either or both of high grade ore from the mine, or partially smelted gold from a primitive "arrastre", was stored as a means of concentrating the product of the mine and protecting it from loss. So, what of the cache of the famed lost mine of La Ventana?
The Cache of La Ventana
As a measure of simple orientation, the old Spanish Trail, which would represent the most likely direction from the mine to the cache, lies generally to the southeast of Ute Ridge, West Ute Lake, the Rio Grande Pyramid, the Window, and other landmarks which reputedly bracket the location of the lost mine of La Ventana. So, in order to estimate a band in which the cache might lie, we start with the following unknown: Just exactly how far is "One Day's Journey"? A "day's journey" — or in the case of La Ventana, an equivalent "sleep" — may be approximated from historical literature in a number of ways, few of them of a precise nature. But a useful consensus of a "day's journey" from many sources interestingly approximates a similar distance. So, let's first take the challenge of estimating the distance of "one day's journey" (i.e., one "sleep") under somewhat 'normal' conditions by considering some historical "day's journey" distances which are contemporaneous with the tale of La Ventana. As a starting point, "one day's journey" as related in a range of historical records described below, describes a qualitative distance, absent governing factors such as the time of year, terrain, or weather. Let's first consider these reports, and then later shape our thoughts as they apply to La Ventana's cache. For a start, we first attempt to approximate 'two sleeps' by de-composing it into basic elements recorded through the ages:
---
Biblical Times
"The common way of estimating distances in the (Middle) East is by hours and days. This is natural in countries where roads are mere bridle paths, or non-existent as in the desert. The distance traveled must of course differ largely according to the difficulties of the way, and it is more important to know where night will overtake the traveler than the actual distance accomplished. A day's journey is now commonly reckoned at about 3 miles per hour, the distance usually covered by a loaded mule, the number of hours being about 8. Hence, a day's journey is about 24 miles, and this may be taken as a fair estimate for Bible times." (H. Porter)
Middle Ages
In the Middle Ages, one day's journey in lowland terrain was generally considered to be on the order of 20 miles (uchicago.edu). The following topics explore how this compares to distances traveled along the Old Spanish Trail in the 1700's - La Ventana's timeframe.
Modern Times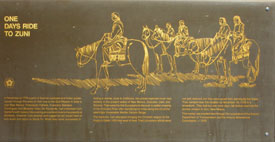 18TH Century: Silvestre Velez de Escalante
The Diary and Itinerary of Silvestre Velez de Escalante, a Franciscan priest who traveled through (today's) New Mexico, Arizona, Colorado, and Utah, offers some support for a similar distance. Although Escalante described distance in leagues, he left us a daily record of the distance he traveled during the period of his journey of 1776. Averaging his distance travelled in the challenging period of Nov 20 to December 31, 1776 (full-on winter) delivers a daily distance covered of 6.5 leagues. Let us reasonably assume that these are land (rather than nautical) leagues, consequently equating to 19.5 statute miles per day. So, the third stake in the ground places an outside boundary of distance traveled in varying terrain and inclement weather of at most 20 statute miles. This premise derives from Silvestre de Escalante's official Diary and Itinerary - November ~20 to 31, 1776, which relates the following distances traveled:
Nov 20 - 4 leagues
Nov 21 - 7 leagues
Nov 22 - 11 leagues
Dec 20 - 4 leagues
Dec 22 - 6 leagues
Dec 23 - 9 leagues
Dec 28 - 4 leagues
Dec 31 - 7 leagues
Therefore, in this documented example Escalante covered 52 leagues over a period of 8 days in a time of inclement weather; equating on average to 6.5 leagues, or 19.5 statute miles per day.
19TH Century: Thomas Jefferson Beale
Although the tale of Thomas Jefferson Beale may itself be apocryphal, the period travels of the advance party of Thomas Jefferson Beale originating out of Santa Fe, New Mexico, following the Old Spanish Trail northwest from Santa Fe, NM in the general direction of Colorado "in pursuit of buffalo herds" nevertheless delivers similar estimates regarding distance covered. In his purported letter of January 4, 1822, Beale relates the travels of his advance party, indicating that they traveled some "250 - 300 miles" in "two weeks or more". As an intellectual exercise, let's assume these estimates reasonably approximate a distance of 300 miles in 15 days, in which event, this report equally suggests the approximation of 20 statute miles per day in favorable weather.
20th Century: We at theGeoZone have collectively hiked, backpacked, and camped the routes into and out from Ute Ridge and the area of West Ute Lake many times over the past two decades; we have also ridden this route on horseback. Taking a cue from our own experiences traveling pack trails, game trails, and cross-country in this region, it's abundantly clear to us that covering twenty miles in one day is clearly not a reality in this terrain. This amplifies with the consideration that shepherding a mule train loaded with gold ore or partially-refined product presents challenges we did not face. Consequently, our considered estimate of "one sleep" in this challenging region would suggest a distance which does not exceed ten (10) statute miles per day.
Conclusion
Gleaning the information from the time periods above, we can observe that:
traveling by foot leading a mule pack is a slow process, approximating no more than 3 miles per hour in lowland terrain
Escalante traveled by the faster means of horseback and covered on average 19.5 miles per day (6.5 leagues)
Beale's party also traveled by horseback, and covered on average a distance approximating 20 miles per day
our own experiences backpacking the San Juan mountains without a mule pack delivered a maximum distance of 12 miles per day
Note that a "days Journey' must include breaking camp, traveling, stopping briefly to rest or have a meal, continuing the journey, selecting a location and setting up overnight camp — leaving at most 7 hours for travel. At a rate of 3 miles per hour, this would equal 21 miles per day. However, as suggested by our own experiences trekking potential routes to the cache, it seems more reasonable to conclude that the maximum distance likely to have been covered while leading a mule pack over game trails in steep terrain would not exceed a distance of 10 miles per day. Consequently, "two sleeps away" to the locale of the cache of La Ventana would not in our estimation significantly exceed a distance of 20 miles.
Our derived estimate of the location of the cache of La Ventana "two sleeps" from the La Ventana mine lies in a generally southeast trending direction 20 - 25 miles from West Ute Creek. In view of the historical note that "One of the largest caches attributed to Los Mina de la Ventana was 2 sleeps away in the Piedra River watershed." we've chosen to select the Rio Grande Pyramid summit (reputedly visible from the portal of the mine) as the point of origin, with the cache lying in the Piedra River watershed along an arc drawn from SE to SSE above the town of Pagosa Springs, CO. Pagosa Springs is situated on Colorado Route 160, approximately 35 miles as the crow flies from the Rio Grande Pyramid, which suggests that the cache would lie 'one sleep' trending NNW from this location.
In view of this, we've constructed an overlay map below which brackets an area in the direction of Pagosa Springs, commencing at a location about 20 miles from the mine ("two sleeps away"), and ending at 25 miles. We would first investigate the walls of side canyons in the NE portion of the shaded area near Pagosa Peak.
---
Equivalents
:
1 league (Nautical) = 3.45233834 (land) miles
1 league (Roman) = 3.26261586 miles
1 league (Modern) = 3.000006 statute miles


Back to Top